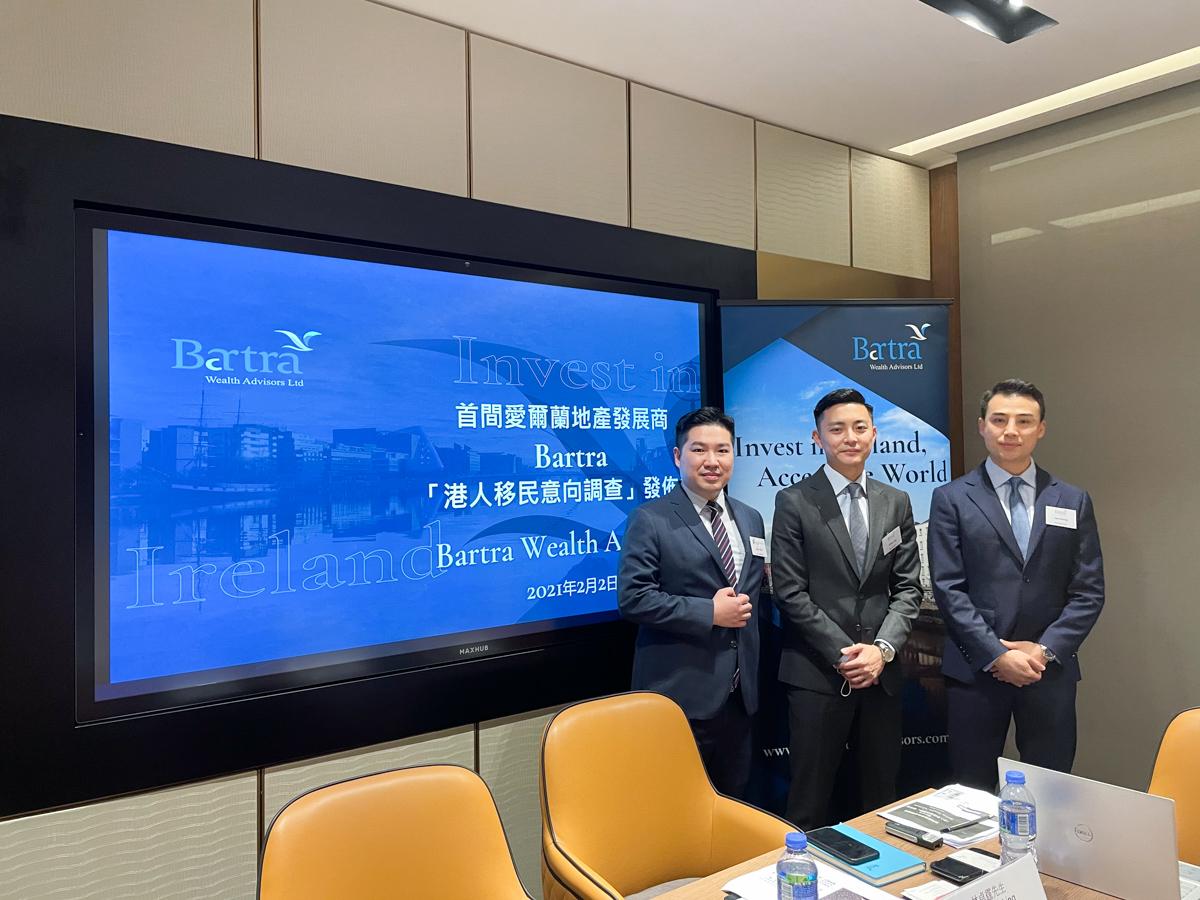 Press Conference on Hong Kong Citizens' Immigration Intentions
Harris Fraser Group was invited to be the speaker of the press conference held by Bartra Wealth Advisors on February 2, 2021 to share the investment opportunities and trends on global wealth management.
Cyrus Chan, CFA, Investment Strategist at Harris Fraser Group, shared his views on the Europe and global economy outlook, as well as the corresponding asset management strategies. Cyrus said, "With widespread vaccination programmes underway, the global economy is expected to recover faster than expected. However, although the UK and the EU came to an agreement for Brexit last year, relevant implementation details still need to be clarified. The troubled British economy may rebound, and the Irish economy will benefit from it.
Bartra Wealth Advisors, an Immigration Investment Advisory company, interviewed around 1,200 Hong Kong citizens aged 18 or over in the form of an online questionnaire. The survey found that the top three preferred countries for immigrants are the United Kingdom, Taiwan, and the United States. When choosing immigration destinations, they pay more attention to the associated costs, the ease of application and language. Respondents also require a great deal of flexibility around application and residency requirements via investment immigration, and they show a high degree of concern about the robustness and security of the investment projects.
Cyrus said: "With the structural changes in the global economic environment, the wealth management needs of high-net-worth clients increase accordingly. Currently, more popular investment strategies include yield enhancement strategy, financial leverage, Euro asset allocation and focus on the healthcare sector." By investing in Ireland's Immigrant Investor Programme ('IIP'), Hong Kong citizens are only required to reside one day per year in Ireland to maintain their residency, in other words, they can obtain a foreign residency without relocating. Although Ireland is not yet the first choice for Hong Kong citizens to immigrate, as they gain a better understanding of Ireland, the country has increased in popularity as a destination for relocation.
Jeffrey Ling, Bartra Wealth Advisors Regional Manager, said, " As a member of the European Union and part of the Common Travel Area with the UK, Ireland, an English-speaking country, is a gateway to both the UK and EU countries with many companies looking to relocate their headquarters, the business prospects are promising."
If you want to inquire about the Ireland immigration services of Harris Fraser Group, please contact us, or click here to learn more.
Tel: 2827 2278
Email: info@harris-fraser.com
Whatsapp: +852 9136 5792