Insights
7 February, 2020
Weekly Insight February 7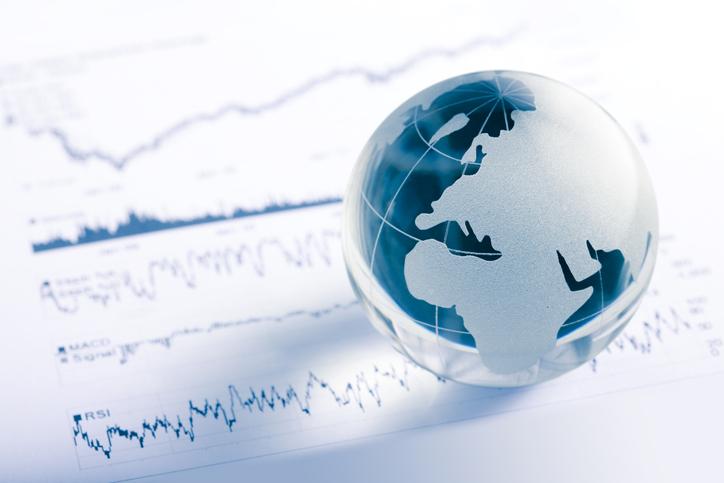 Weekly Insight February 7

United States
Although the spread of the new pneumonia epidemic has not subsided, US stocks hit a new high on Thursday. As of Thursday, the S & P 500 Index has rebounded 3.7% this week. U.S. stocks hit another record high, on the one hand because of the stable quarterly results of U.S. stocks, and on the other, because the market believes that global central banks will be able to increase monetary easing again. Based on the published 316 companies of S&P500 index, the ratio of profit beating market expectations has remained at a high level of 75%, reflecting that companies are not overly affected by the expected economic slowdown. In terms of industry classification, the ratio of technology sector to outperform expectations was the highest, close to 95%; followed by consumer goods sector, 89%, reflecting that the consumer market is still good. After the US Senate vote, the allegations about Trump's impeachment were not established. The United States will release the January consumer price index, as well as retail sales and Michigan market sentiment data next week.

Europe
As of the past 5 days on Thursday, global stock markets have generally risen, and European stock markets are no exception. The British, French, and German stock markets rose by 1.7%, 2.8%, and 3.2%, respectively. While the market still believes that central banks will launch stimulus measures again, European Central Bank President Lagarde said this week that the central bank has less room to deal with global threats, or there is limited options to further strengthening monetary easing measures. The final Markit Eurozone manufacturing PMI announced in January this week was 47.9, slightly better than the previous value and expectations, but the year-on-year growth in retail sales slowed to 1.3% in December and the data was 2.2% in November. Next week, the Eurozone will announce GDP in the fourth quarter of last year, and the market is expected to increase by 1% year-on-year, unchanged from previous values.
China
In the Chinese and Hong Kong markets, although the mainland stock market fell sharply on the first day of opening on Monday, it began to rebound after opening lower on Tuesday and then rose for four consecutive days to make up for losses these days. Hong Kong stocks also to above 27,000 points this week. The State Department announced on Thursday that it will reduce tariffs on approximately $ 75 billion of US imports originating next Friday. In addition, the executive meeting of the State Council also stated that another batch of fiscal, tax and financial policies to support the economy will be introduced, and this news has supported the market. China will announce the consumer price index for January next week, and the market is expected to grow to 4.9% year-on-year.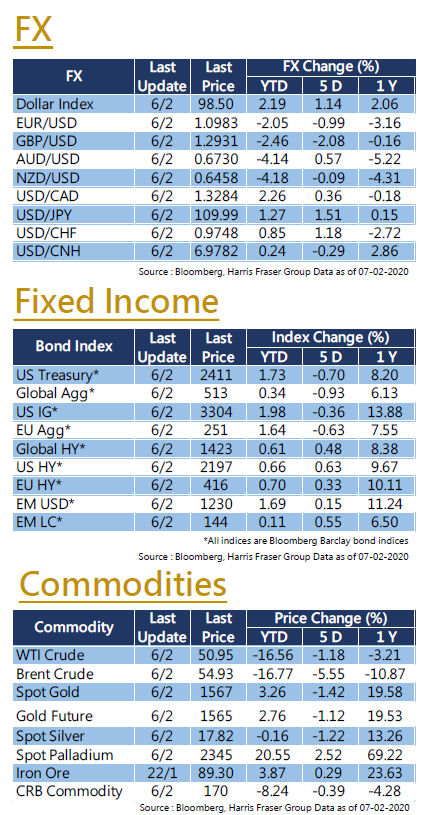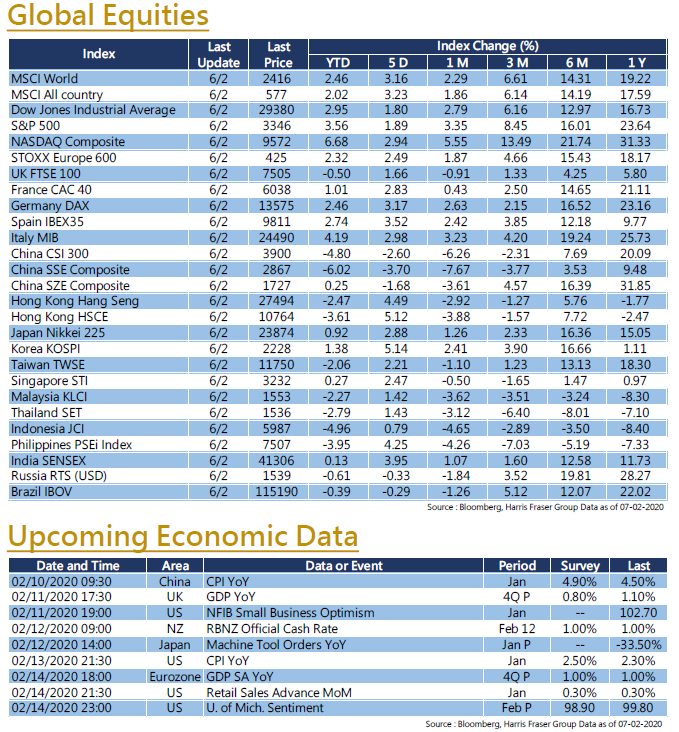 Recent activities include : Harris Fraser held a Press Conference on "2020 Global Investment Market Outlook", Attended Bloomberg Businessweek/Chinese Edition Top Fund Awards 2019
Columns, media interview and online channels : "TVB News","TVB Big Big VIP", "Now FINTERVIEW", "iCable Finance" "iCable News", "Capital", "SingTao Newspaper", "Sing Tao Investment Weekly", "Headlines News" , "ET Net","OrangeNews", "Quamnet" and online videos produced by Harris Fraser Group. (including but not limited to the above)