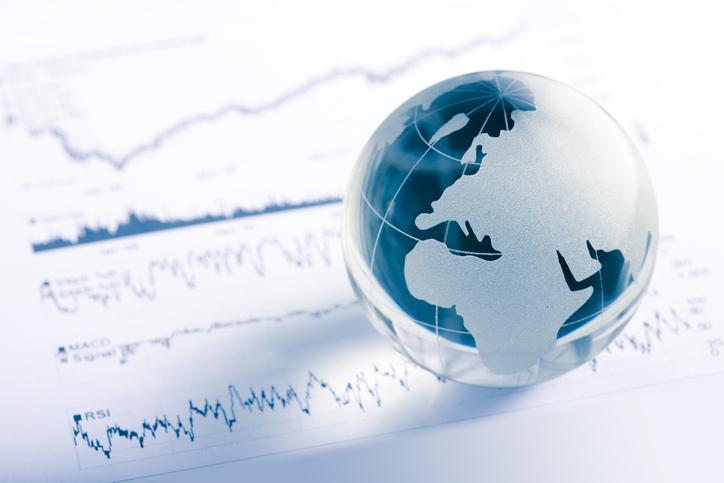 US
Sino-US tensions continued to rise, US President Trump rejected dialogues with China, even claimed that he is considering cutting off bilateral trade relations between the two, the market raised concerns about the performance of Chinese concept stocks listed in the United States. Against the backdrop of trade war threats, global stock markets fell, the three major US stock indexes fell between 0.4% and 1.0% over the past 5 days ending Thursday. As for the covid-19 epidemic situation, Russia now has the second highest number of confirmed cases in the world, and the number of new cases in Brazil also set a new record, becoming a new epidemic epicentre. Although Fed Chairman Jeremy Powell refuted the rumour, the market continued to bet on negative interest rates in the US. The US core consumer price index fell 0.4% MoM, which is the largest monthly decline in history. In addition, the number of unemployment claims filed has also stayed in the millions for 8 consecutive weeks, the economic outlook remains worrying. The US will release the April FOMC minutes next week.

EU
The epidemic in Europe showed signs of easing, many countries have lifted border controls. Nevertheless, European stock markets still underperformed against global equities, UK, French, and German indexes fell 3.2% to 6.1% over the past 5 days ending Thursday. As the epidemic subsided, the EU is considering an economic recovery plan on a massive scale, Italy has also approved a 55 billion Euro economic stimulus plan. Other than the Fed, the market is also betting on the Bank of England lowering interest rates below zero by mid-2021. Europe and the UK will release CPI data next week, and the UK will also announce the unemployment rate.
China
The US has increased pressuring China, President Donald Trump is considering banning the federal pension fund from investing in Chinese stocks. The news hit market sentiment, the Hang Seng Index and the CSI 300 Index fell by 1.79% and 1.28% respectively. On Friday, China released April figures for fixed investment, factory production, and retail sales, which have dropped 10.3%, 4.9%, and 16.2% YoY respectively; while the new loan figure in April was 1.7 trillion RMB, beating market expectations. China will announce 1-year and 5-year LPR interest rates, market expects the rates to remain unchanged.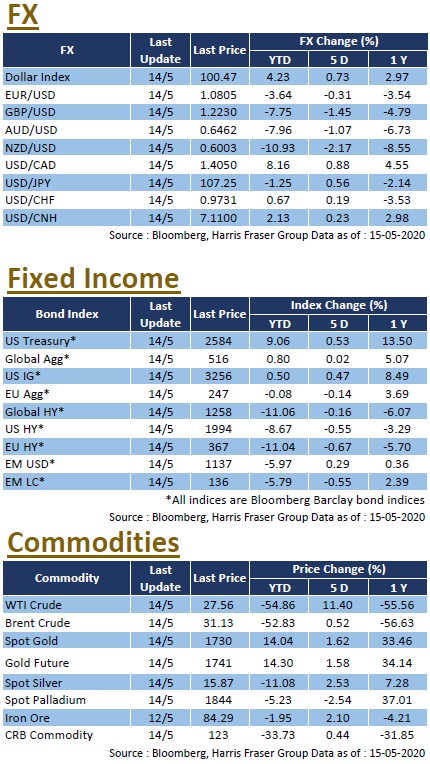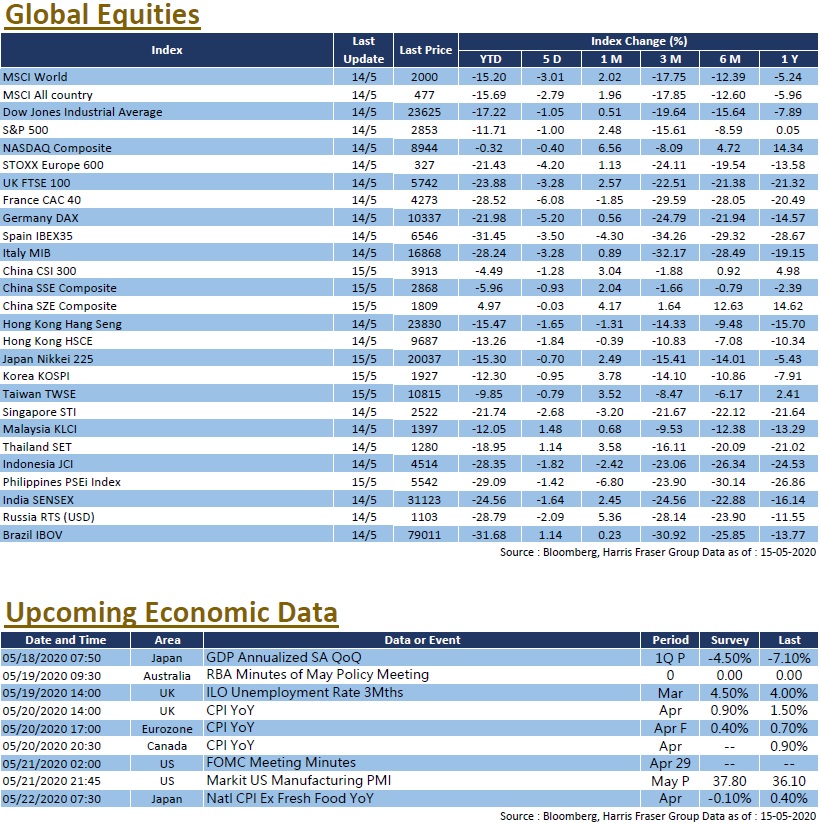 <Harris Fraser Research Team>