Insights
14 February, 2020
Weekly Insight February 14
Weekly Insight February 14

United States
Earlier this week, the number of new confirmed cases of COVID-19 in China continued to slowdown. The overall global stock market performed well, and US equities continued to hit new record highs. On Thursday, Chinese authorities announced that the number of newly diagnosed cases on Wednesday rose sharply, limiting US equity performance that night. However, over the past 5 days ending Thursday, the S&P 500, the Dow, and the NASDAQ rose 0.84%, 1.31%, and 1.46% respectively. Several US officials have shared their views on the economy. Fed Chairman Powell claimed that he is optimistic about the prospects of the US economy, he also reiterated his dovish stance; the Dallas Fed President similarly expected steady growth for the US economy this year. On the other hand, the New York Fed Reserve stated that it would further reduce the scale of overnight and regular repo operations starting on Friday. However, the Fed emphasized that the balance sheet expansion of US$60 billion per month will be kept unchanged. The minutes of the January FOMC meeting will be released next week, the market will focus on the Committee's latest stance on the monetary policy of the year.

Europe
As it seemed that the COVID-19 epidemic was getting under control, European stock markets followed the global markets and rebounded, German stocks even closed at a record high. Over the past 5 days ending Thursday, the German DAX rose 1.26%, the French CAC was up 0.91%, while the FTSE 100 fell 0.7% as the Sterling strengthened. The UK Finance Minister Sajid Javid resigned in a surprising announcement, market expects that government spending may increase after the replacement, and the Pound rose accordingly. As for the European economic outlook, the European Commission expects that the European economy will stay on the weak side, and further lowered Italy's economic growth forecast in 2020 from 0.4% to 0.3%. Eurozone and UK January inflation data will be released next week.
China
The China and Hong Kong stock markets continued their recovery over the week, The HSI rose 1.5%, while the CSI 300 Index was up by 2.25%. Earlier reports said that Zhong Nanshan, the high-level expert group leader of the Chinese National Health Commission, expected that the new coronavirus epidemic to peak this month and end around April. The market continued to digest the epidemic news, and partially recovered from the selloff in late January. China announced the inflation data for January earlier in the week, the CPI accelerated to 5.4% YoY, higher than market expectations and previous values of 4.9% and 4.5%. In particular, pork prices rose 116.0%. The high inflation has drawn market attention to its impact on future monetary policy. Next week, China will announce the RMB Loan Prime Rate (LPR). The market expects the one-year LPR to reduce 10 pips to 4.05%.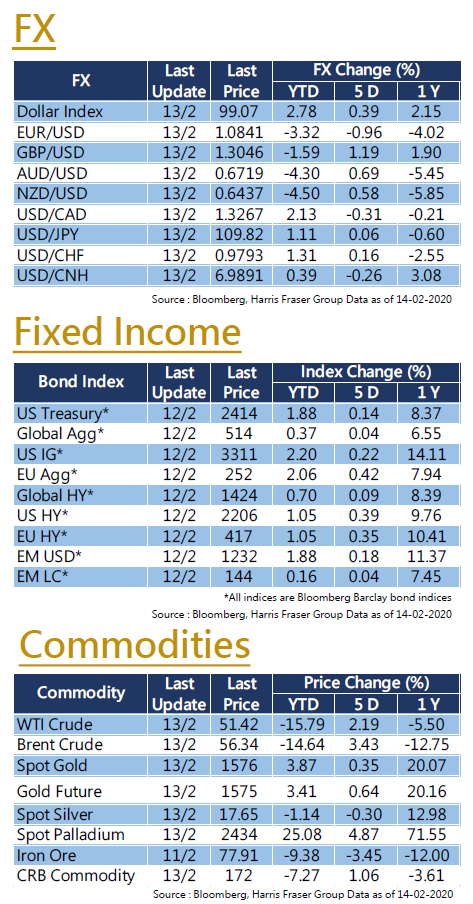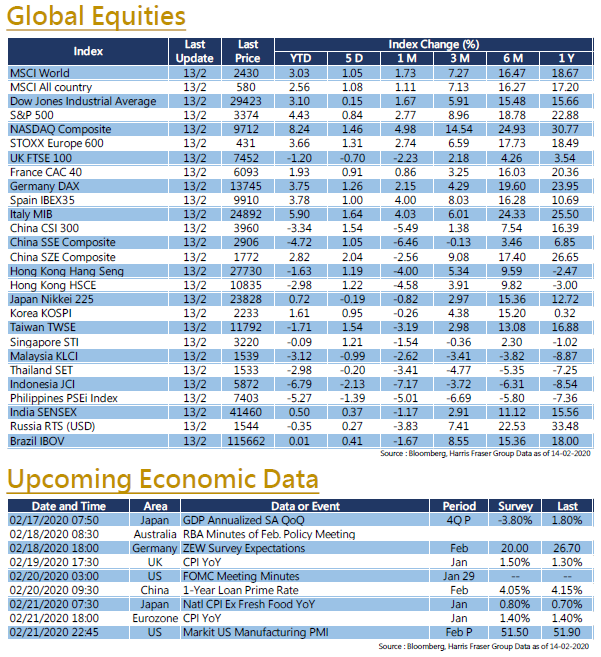 Recent activities include : Harris Fraser held a Press Conference on "2020 Global Investment Market Outlook", Attended Bloomberg Businessweek/Chinese Edition Top Fund Awards 2019
Columns, media interview and online channels : "TVB News","TVB Big Big VIP", "Now FINTERVIEW", "iCable Finance","iCable News", "Capital", "SingTao Newspaper", "Sing Tao Investment Weekly", "Headlines News" , "ET Net","OrangeNews", "Quamnet" and online videos produced by Harris Fraser Group. (including but not limited to the above)