Markets
27 December, 2019
Weekly Insight December 27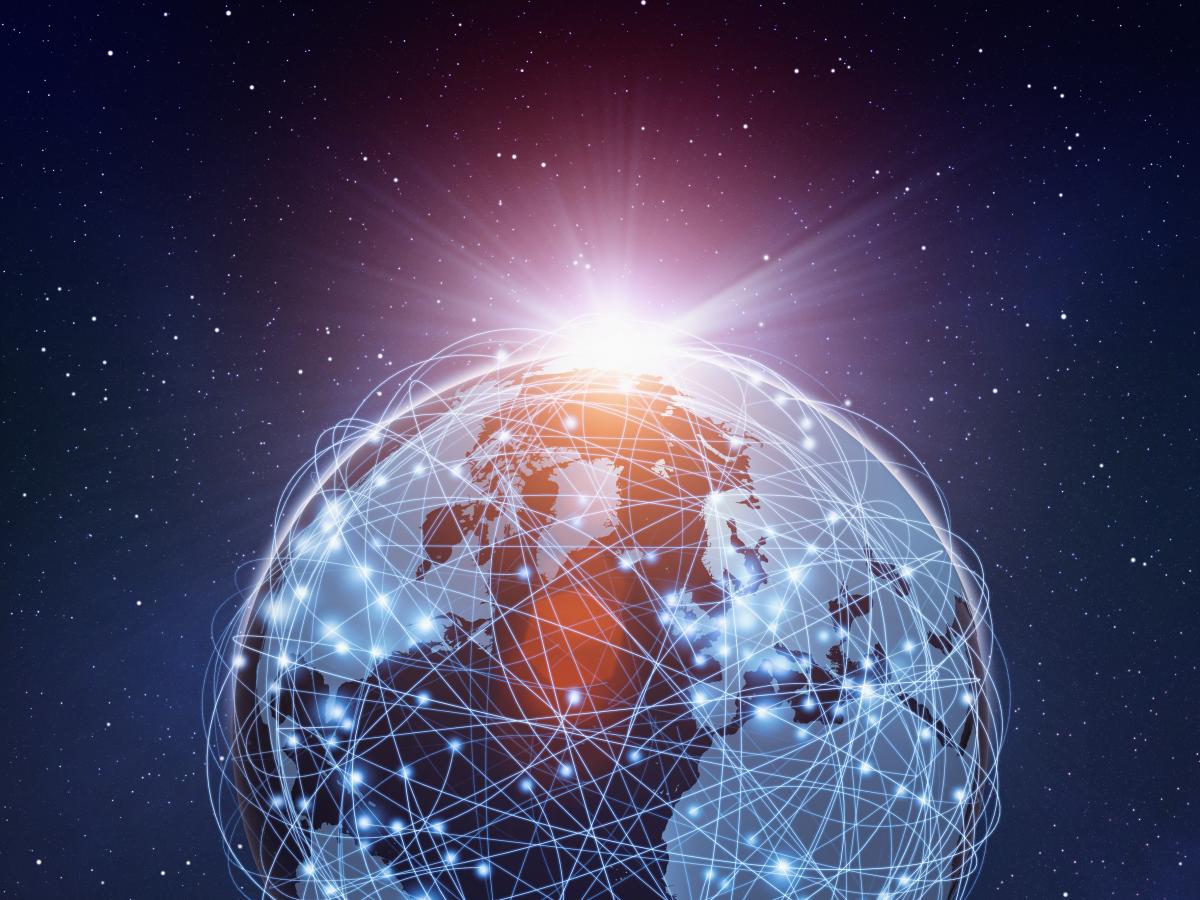 Weekly Insight December 27

United States
The holiday mood set in, stock trading volume was light over the week with market closures on Christmas, yet major US indexes continued to break new highs. Over the past 5 days ending Thursday, the Dow and the S&P 500 rose more than 1%, while the NASDAQ gained more than 2%. Benefiting from the improving Sino-US trade sentiment, the NASDAQ broke the 9,000 level for the first time in history; The PHLX Semiconductor Index, representing the semiconductor sector, has risen more than 20% since the beginning of December. US President Trump has stated that a signing ceremony for the China-US trade agreement will be held. The US economic data released over the week was satisfactory. The University of Michigan market sentiment index further rose to 99.3, and the initial jobless claims figure was 222,000, which was also lower than the revised figure of 235,000 last week. Data to watch next week include the consumer confidence index and ISM manufacturing index.

Europe
European equity markets got mixed performance. Over the past 5 days ending Thursday, the UK FTSE 100 and the French CAC rose 1.4% and 1.0% respectively, but the German DAX fell 0.8%. With regards to Brexit, the House of Commons just passed the Withdrawal Agreement Bill, and we expect getting Brexit done at the end of January as scheduled. In addition, there are reports that EU negotiators will use "restricted access to the EU market" as the bargaining chip for next year's Brexit negotiations, so as to ensure UK compliance with the EU legal framework. The market expects that there will be a larger tug of war between both sides after the official Brexit date. On the economic data side, the consumer confidence index released this week fell to the negative 8.1 level. Next week, investors may pay attention to data like the German CPI and the finalized Eurozone manufacturing index figure.
China
Over the past 5 days ending Thursday, the Chinese and Hong Kong stock markets have shown limited movement, the CSI 300 Index rose 0.22%, while the HSI fell slightly by 0.07%. Earlier, Trump said that he would arrange both parties to sign the trade agreement, but the market sentiment in China and Hong Kong remained cautious. On the other hand, Chinese Premier Li Keqiang mentioned at the beginning of the week that the government will further utilize various measures such as RRR cuts, targeted RRR cuts, refinancing, and rediscounts to reduce actual interest rates and financing costs, so as to ease the financing difficulties of small and micro enterprises. Markets expect these liquidity adjustment measures to be adopted in the near future. As for economic data, the YoY change in Chinese industrial profits in November rose 5.4%, the largest increase in eight months, indicating a rebound in profit growth. The official manufacturing, non-manufacturing indexes, and Caixin manufacturing index will be released next week.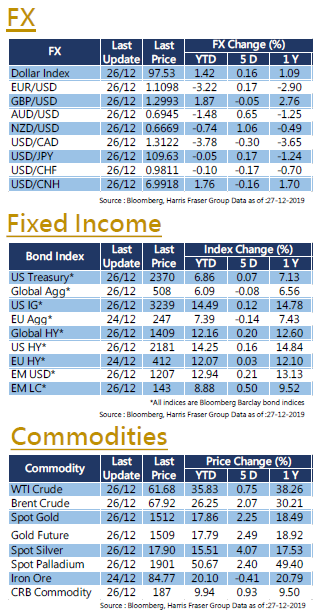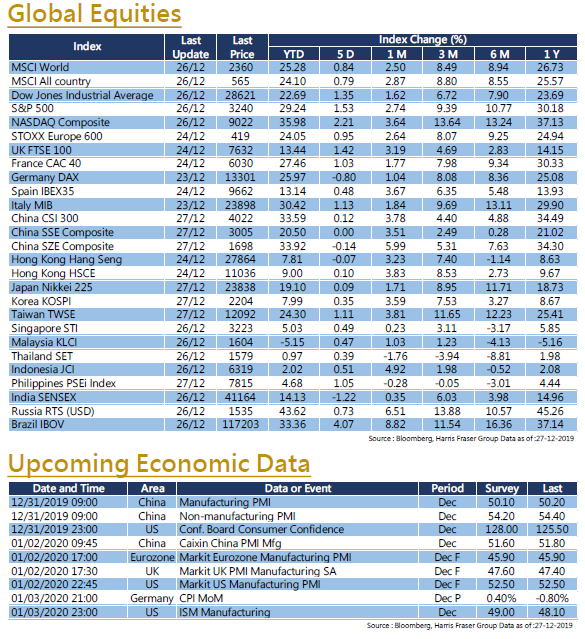 Recent activities include : Harris Fraser held a Press Conference on "2020 Global Investment Market Outlook", Attended Bloomberg Businessweek/Chinese Edition Top Fund Awards 2019
Columns, media interview and online channels : "TVB News","TVB Big Big VIP", "Now FINTERVIEW", "iCable Finance", "iCable News", "Capital", "SingTao Newspaper", "Sing Tao Investment Weekly", "Headlines News" , "ET Net", "OrangeNews", "Quamnet" and online videos produced by Harris Fraser Group. (including but not limited to the above)